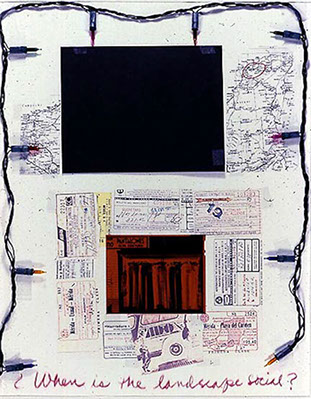 Above is the negative set-up for one of the images in the slide show. I used a 16x20 piece of glass with a black cut out to cover the top image after it is exposed, the rest of the image is contact printed and most often I used a color filtered penlight flashlight to draw and photogram objects attached to the glass. Each of these images is really one of a kind since you cannot ever make the same moves with the penlight. This was difficult to do but was the beginnings on work I made with the computer later. All photographic images were shot with a 4x5 camera on color film.
The top image was enlarged/projected onto the paper then the glass was set in place inside the easel
LOST IN THE LANDSCAPE, WHEN IS THE LANDSCAPE SOCIAL, EMBEDDED IN TRADITION 1982-1985
My friend Bart Parker one evening while walking down a road in the mountains in Colorado as me a question about my work. These were my answer: How can you live in a place that is so beautiful and not get lost in the landscape tradition?